We specialize in ant control for all types of ant species.
Although the presence of some pests causes more concern than others, sharing your living space with insects is never appealing. The house ant is more bothersome than dangerous, but there are certainly some compelling reasons to invest in professional ant control at the first sign of them.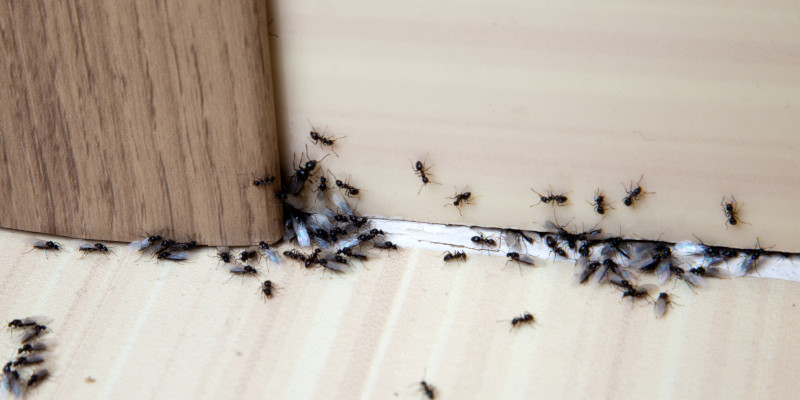 One of the main reasons to have ants eliminated is the fact that they reproduce incredibly quickly. Ants can create massive colonies within a short period of time because the queen ant can lay hundreds of eggs in one day. Ants leave trails of pheromones behind for other ants in their colonies to follow, so spotting just a few ants often indicates the presence of a colony nearby.
The house ant isn't the only type of ant found in the Hampstead, North Carolina area. Carpenter ants have been found here as well, and their presence is more concerning, as they are a wood-destroying insect species. Fire ants can sting when feeling threatened, causing pain and discomfort to their victims. Odorous house ants have also been spotted in this area, and they leave unpleasant odors behind when they take up residence in a home or business. At Riggs Moisture, Termite & Pest, we specialize in ant control for all types of ant species. Our experienced technicians can locate and eliminate ants for both residential and commercial clients.
Part of our ant control process includes taking a preventive approach to reduce the risk of future infestations. We'll look for satellite colonies of ants that may be located in other places on the property and target those for complete elimination. For more information about our professional approach to ant control, give us a call today.
---
At Riggs Moisture, Termite & Pest, LLC, we offer ant control services in Hampstead, Wilmington, Jacksonville, Leland, Topsail Beach, Holly Ridge, and Surf City, North Carolina.